Planova has joined hands with a non-governmental, non-profit, interfaith organization, Ray of Hope Jinja, an initiative of "With a Little Help". They work with a vision to provide modern, culturally appropriate, accessible and affordable palliative care to all palliative care patients. They have cured and saved the lives of a lot of patients suffering from life-threatening diseases like HIV/ AIDS and cancer through care and support. When the team at Planova, visited them and heard about their stories of suffering and pain they were speechless and wanted to help in any possible way.
Rays of Hope Hospice Jinja treats and cares for over 400 patients in the Busoga Region, one of the poorest regions of Uganda. Every day their teams of clinicians and social workers go deep into the rural villages on scheduled, regular visits. Most of their clients are bedridden so care is done at their homes. The more strong and mobile clients are attended to at near-by outreach centres, including government health centres, roadside clinics and at Rays of Hope Hospice Jinja office in Jinja.
One such story is of 23-year-old Esther whom we met in the fall of 2018. She was diagnosed with AIDS at the birth of her youngest child and had been started in anti-HIV treatment, but had not received at the same time teaching about her illness. When we met her on the hospice route in the district, her son was 5 years old and Esther's death was near. She had not understood the importance of taking the medicine regularly and had completely abandoned hope. Margrethe and the running team from hospice helped her understand the context and provided food for Esther and the little boy as it is extremely important to eat when taking the medication. In a short time, Esther is now able to take care of her children again.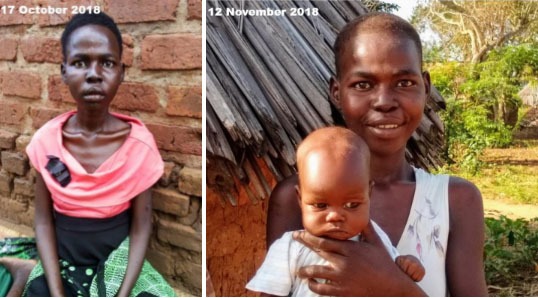 We also met 27-year-old Besi Farida Nabuzale. In 2017, she was diagnosed with HIV. A year before, her husband had died of the disease. She had lost the ability to walk due to prolonged illness. Her children were now completely dependent on their grandmother. The hospice team helped Besi learn how to take her medication. She was taught simple training exercises, was given a mattress and a monthly donation of $3 for food and her name was written on a wheelchair waiting list. She subsequently built a walkway for her daughter. And as when we visited her again after 10 weeks, with her mother's constant help, she had regained the ability to walk and informed us that she no longer needed a wheelchair. Besi's children have got their mother back and with her the belief in the future.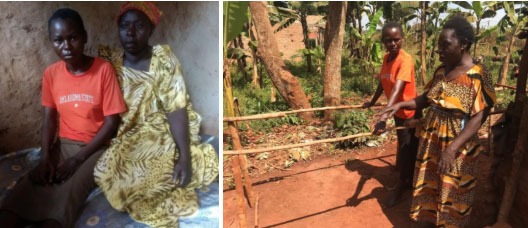 These stories from Rays of Hope Jinja and the work and effort that the team is putting in to restore and provide a healthy life to people residing in villages with no access to medical facilities is completely heartwarming. Their work presents a great opportunity to help a person in need – whether sick with cancer, HIV/AIDS or any other life-threatening disease or trauma. The absolute poverty and last-mile isolation of the clients mean Rays of Hope Hospice Jinja is often their only hope for treatment and care, making our work an immense and crucial challenge.